Let's get back to basics
Remember the holidays we had as kids?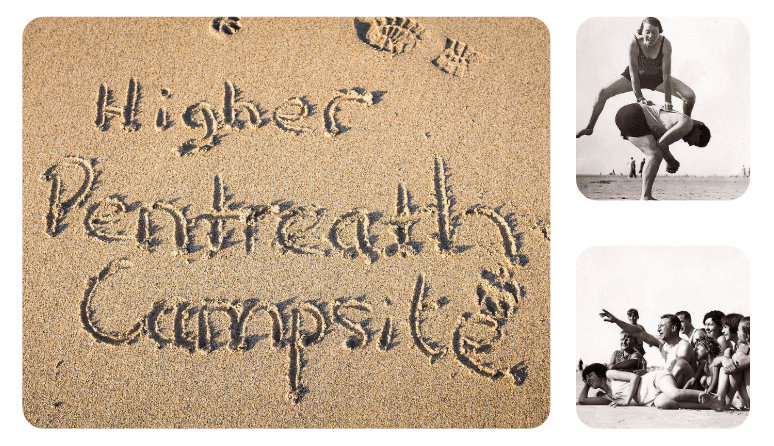 Higher Pentreath Campsite has offered Cornwall camping near the beach since opening in the 1950s. Our focus is finding fun in the simplest moments. To us and our visitors, simplicity looks like daily paddles in the sea, kids playing out from dawn until dusk, chatting with other campers, star gazing in the evenings and having such a good time that you lose track of what day it is.
We are a short walk from Praa Sands, a popular surfing beach in Cornwall. The campsite is well placed for exploring Helston, the Lizard Peninsula, Porthleven, Marazion and Penzance.
We are a family run campsite which we opened in the 1950s, and have recently become a limited company, with the next generation taking over the reins. While staying with us, you may see a glimpse of the land owner: a true, hardworking, Cornishman (no guarantees you will understand him).
We are rustic, proud of our heritage and we have camping in our blood. A fond memory of Higher Pentreath is when a television was moved outside to the garden to ensure our campers could watch the 1966 World Cup final, to see England win! We have many treasured memories like this and look forward to making many more.
SEE WHAT'S AROUND
Our Prices
We like to keep it simple!
(Prices below are per night for all seasons and inclusive of showers)
Electric Pitch (up to 4 people included)
£29.00
Non electric pitch (up to 4 people included)
£21.50
Hikers/Walkers pitch
£14.00
Children, 5 and under
Free
CHECK AVAILABILITY
Higher Pentreath Camper Commandments
We like keeping things simple so these are the only rules you will need to remember while camping with us. Higher Pentreath Campsite Ltd, reserve the right at anytime, to ask anyone staying on the
site to leave who cannot follow our rules
Please respect fellow campers
Chill out and relax
Dogs and pets are welcome but must remain on a lead
Laughter is encouraged
Please keep bbqs and campfires off the grass
Sunset-watching is a must-do
Dispose of rubbish appropriately and before leaving
Embrace our Cornish ways and do things d'reckly*!
Everyone is welcome: groups, couples, singles and, of course, families.
*d'reckly: Cornish meaning an unspecified time or simply later.
VIEW OUR FACILITES
Retro Game signs
Making memories, one game at a time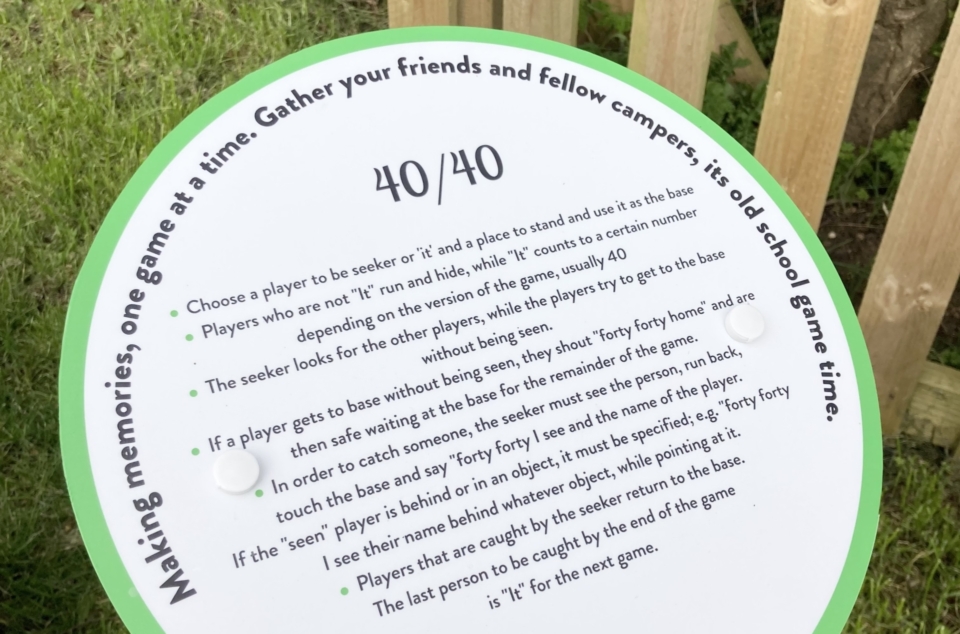 We have installed some retro game post signs, we want to encourage, anyway we can our children campers to get off those devises and go play games us adults use to as children.
They are designed to give children ideas and focal points to set up certain games to play and recruit their new friends. We love bringing our campers together to create memories that will hopefully last a lifetime.
It may also allow a little time for parents to enjoy a few minutes of peace whilst the children play, but no promises.
Our QR Code Trail
Bringing memories back to life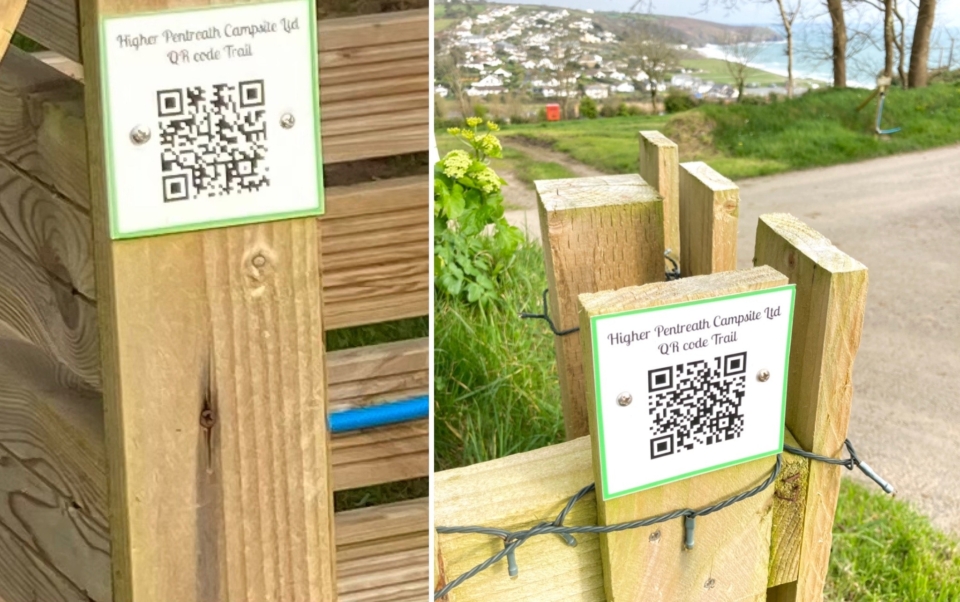 We wanted to create and remind our campers of memories from summers past, Cornwall events, sounds of summer and more. Therefore we have put over 30 QR Codes around our site, some easier to find than others, each one to scan and will lead our campers to a link, of a memory, a tune, or an event which either induces summer feelings, holiday vibes or past Cornish events. Which we hope will bring something extra to your stay with us.